Our Founder
Dr. Maria Martin, a native of Cleveland, Ohio, is currently an Assistant Professor of African History & Critical Race and Ethnic Studies at the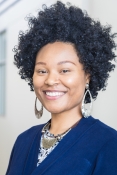 University of California, Merced. She holds a PhD in African American and African Studies with a concentration in history and women's studies from Michigan State University where she is known for her hip hop teaching methods. Dr. Martin has also taught internationally in Nigeria at the University of Ibadan in the Gender Studies program. Prior to teaching in Nigeria, she conducted research there using oral histories and archives that centered building an intellectual history of Nigerian women's activism in the nationalist movement.
She is a Bill and Melinda Gates Scholarship alumna and has won several Fulbright awards in addition to receiving an honorable mention from the Ford Foundation for her research. Dr. Martin has also been a volunteer grant writer, teacher trainer, and mentor for a non-profit organization serving young girls from the inner city of Detroit, Michigan for six years. She is a dedicated teacher-scholar-activist who desires to work towards one of the foundational principles of Black Studies which is to connect the university to the community.
---
Founding Members
Add founding members.